About Dr. Ghasri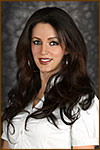 Dr. Poneh Ghasri is a graduate of the prestigious UCLA School of Dentistry. She has completed several advanced certification programs in the fields of cosmetic dentistry and Lumineers. She is considered a premier cosmetic dentist and is known for her ability to perform spectacular smile makeovers. She effortlessly combines the latest advances in dental technology with her skilled artistry to provide her patients with smiles that look and feel natural and naturally beautiful.
Her reputation for excellence is well known, and she has worked with some of Hollywood's best-known celebrities and personalities. She continues to expand her knowledge in the field of cosmetic dentistry in order to provide her patients with the latest and most advanced techniques possible to improve their smiles. She is recognized as a Top Lumineers Dentist and an Invisalign Preferred Provider.
She is passionate about continuing her education not just in the field of dentistry but in all areas of her life. She takes self-improvement courses and attends leadership programs, and she enjoys taking educational, business, marketing and communication classes as well. Her free time is spent with her family and friends, and her diverse hobbies include collecting shot glasses and belly dancing.
Dr. Ghasri has an unparalleled commitment to her patients and to dentistry. She will work with you so that she can better understand your dental health needs and preferences, and she will provide you with the information you need to better understand your options. Call today to schedule your consultation.
Website Design and Dental Marketing by Avital Web, SEO Company