Cerinate Lumineers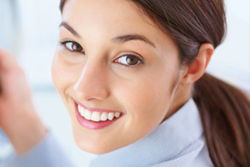 Reconstructing your smile can be a long, arduous and, most likely, painful process, but Cerinate Lumineers can have your smile shining again with no pain. Cerinate Lumineers are the most innovative cosmetic dentistry option available for smile reconstruction. They offer a beautiful smile within weeks without the hassle of shots, tooth removal, or pain.
Traditional veneers are placed over teeth through a process that can demand extensive and irreversible filing of healthy tooth structure. Once teeth have been filed, temporary crowns are placed on the teeth while the traditional veneers are made. The temporary crowns are then removed, most likely requiring more shots, so the permanent veneers can finally be placed. Unfortunately, that may not be the end of your journey as additional dentist appointments may need to be made to ensure that the bite is correct.
While traditional veneers involve a much longer, more painful process that can take months, Lumineers placement is quick, easy, and painless. Contrary to veneers, Lumineers do not require a lot of the physical reconstruction such as shots, drilling, or removal of tooth structure, and that translates into no pain for the patient. Cerinate Lumineers are ultra-thin and can be easily applied over your teeth in as little as two visits to your dentist.
Dr. Poneh Ghasri, Los Angeles Lumineers specialist, has extensive experience evaluating and placing Cerinate Lumineers for patients. You can make an appointment today to speak with Dr. Ghasri about using Cerinate Lumineers to cover your imperfect teeth, and give yourself a refreshing and bright new smile.