DenMat Lumineers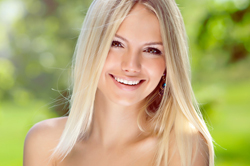 DenMat offers the best smile reconstruction technology available: Lumineers. Lumineers are the only dental veneer patients ask for by name, and they achieve so much more than traditional veneers ever could. Lumineers help patients create a brilliantly new smile, whether it is for esthetic purposes or smile reconstruction. Patients want a beautiful smile without the harmfully invasive treatments offered in the past. Lumineers offers just that.
Transforming smiles with Lumineers occur with minimally invasive techniques, including no shots and tooth reduction, while at the same time creating clinically superior outcomes. DenMat Lumineers are the proven leader in giving the patient exactly what they want, how they want it. Lumineers' digital design technology allows for restorations as thin as 0.3mm consistently, requiring the least amount of tooth reduction possible for beautiful results.
DenMat Lumineers achieve 176% greater translucency for a more natural, more esthetic smile compared to traditional dental veneers. Not only are these Lumineers beautiful, but they are also the strongest ceramic veneers on the market. DenMat Lumineers are back and supported by over 30 years of design expertise and 20 years of documented clinical results.
Dr. Poneh Ghasri, specialist for Lumineers in Los Angeles, has been using Lumineers in her practice and knows the powerful impact they can have on a patient's smile. DenMat Lumineers are creating a whole new avenue of painless, easy, and hassle-free dentistry for achieving smile reconstruction.