Dental Lumineers Cost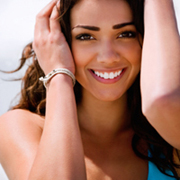 Dental Lumineers are a special type of dental veneer that is designed to fit directly over your own natural teeth and conceal chips, stains, gaps and other cosmetic issues. Our dentist can help you learn more about the dental Lumineers cost, which can vary widely, and your candidacy for the procedure.


Several factors may affect the dental Lumineers cost, including the amount of preparation you need. Lumineers can often be placed directly over your teeth without any shots or drilling, which means that if you are a candidate for Lumineers, you will need no shots, no drilling and have no discomfort. Some patients may need a slight amount of preparation, however, which can affect the cost.


The number of Lumineers you need can also affect their cost. A single arch or a small number of teeth will cost less than an entire smile full of teeth. Small areas of damage can be easily corrected using a few Lumineers, but if you have severe stains or other cosmetic concerns, you may benefit more from a complete smile makeover using Lumineers.


The dental Lumineers cost is a one-time expense for a restoration that can restore and enhance your smile for up to 20 years unlike other types of restorations that may only last a few years or require frequent touch-ups. Lumineers are not just long-lasting but also remarkably natural-looking. You will design your smile with our dentist for the most flattering smile possible. Contact us today to learn more or to schedule your consultation.