Dental Lumineers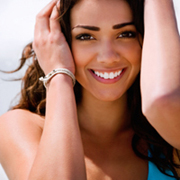 Dental Lumineers are a state-of-the-art cosmetic dental treatment that can restore a whiter, brighter, healthier appearance to your teeth. These ultra-thin layers of Cerinate porcelain are designed to be bonded directly to the fronts of your teeth, which means you can often have them placed with little or no preparation of your natural dental enamel. That means you can have a brighter, uplifted smile without any shots, drilling, discomfort, pain or recovery time.


You may be a candidate for dental Lumineers if you have teeth that are stained, uneven, gapped, chipped, cracked, worn, misshapen or otherwise damaged or discolored. Any decay or gum disease should be treated before you proceed with any cosmetic enhancements, including dental veneers.


If you are a candidate for Lumineers, our dentist will evaluate your smile, and we will work with you to identify areas of concern and your preferred solutions. You may even be able to preview your new smile design using advanced imaging techniques. Our dentist will then need to take dental impressions and measurements to ensure the most accurate restorations possible. At your next appointment, our dentist will apply an etching liquid that roughens the surface of your teeth and ensures a more secure bond. Your new dental Lumineers will then be bonded to your teeth.


Lumineers can last up to 20 years and give you a glowing, beautiful smile that boosts your self-confidence each time you share it. Contact our dental office to learn more about Lumineers or to schedule a consultation with our Los Angeles Lumineers expert.