Lumineers by Cerinate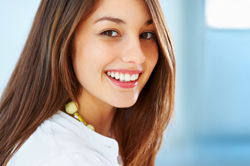 Lumineers by Cerinate have been designed and engineered to give patients a pain-free and quick solution to smile reconstruction. You no longer have to hide your smile or experience a horribly long and often painful procedure to receive a beautiful new smile. Lumineers by Cerinate can create a smile for you in as little as two dental visits to transform your appearance.
Dr. Poneh Ghasri has extensive experience in placing Lumineers by Cerinate and she can give you the smile you have been looking for. Cerinate Lumineers do not require your sensitive tooth structure to be removed or irreparably damaged because they can be easily placed over your existing teeth. Lumineers by Cerinate are placed upon your current teeth and easily bonded to them by a curing light. No anesthetic shots need to be taken and no major loss of tooth structure has to occur to acquire the smile you have always dreamed of.
Before the Lumineers by Cerinate are placed upon your chipped, cracked, or discolored teeth, you must have a preliminary visit with Dr. Ghasri to take a mold of your teeth to create the Lumineers. Once the Lumineers have been completed, Dr. Ghasri will place them onto your teeth and give you that bright smile you have always wanted. There are hundreds of reasons as to why people experience discolored, broken, chipped, and even cracked teeth, but there is no reason or circumstance stopping you from restoring your smile with Lumineers by Cerinate.
Dr. Poneh Ghasri, Los Angeles Luimneers expert, wants to help you achieve the smile you dream of. Set up an appointment today and find out how Lumineers by Cerinate can give you a brilliant smile in weeks, pain free!