Lumineers Cost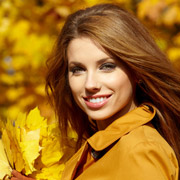 Lumineers are a specific brand of dental veneers that offer patients a painless way to whiten, enhance and align their smiles. Considerably thinner than traditional veneers, Lumineers can be as thin as a contact lens and be used to shape your smile without trimming, grinding or otherwise altering your natural teeth. The Lumineers cost can be considered as an investment in your smile's beauty.


One of the most versatile treatments in cosmetic dentistry, Lumineers can be placed directly over your teeth as well as existing crowns or dental bridges. They can be used to correct chips, discolorations, misalignments, cracks and worn enamel, and they can be applied in just a few dental visits.


Lumineers is a revolutionary product that is made from Cerinate™ porcelain, a remarkably strong, durable material that resists microleaks and microfractures. The procedure begins with a smile analysis and dental impressions, which will be used to create your new smile. Since no preparation is needed, you will not need temporary veneers as you wait for your new Lumineers. At your next appointment, your new Lumineers will be checked. When you are fully satisfied with your new look, they will be bonded to your teeth. The Lumineers cost generally includes all aspects of your treatment from your smile analysis to the bonding.


Because your teeth do not have to be trimmed before placement, you will generally need no anesthetics, painful shots or uncomfortable drilling. You will not experience any post-procedure sensitivity, and your Lumineers smile will look and feel naturally beautiful.
Contact our dentist today to learn more about the procedure or the Lumineers cost.