Lumineers Reviews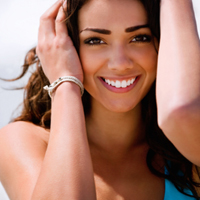 People from all walks of life have exclaimed their joy and elation once they have been fitted Lumineers and seen their brand new smile. People across the country have renewed their broken, chipped, stained, and cracked teeth for a beautiful new smile in a matter of weeks because Lumineers offers cutting edge technology and design, creating a better looking you in as little as 2-3 visits to your dentist. Just read Lumineers reviews to find out for yourself.


Lumineers reviews from several dentists across the country, and even throughout the world, clearly display how incredible Lumineers revolutionary technology is. One dentist says: "When you complete a Lumineers placement and the patient gets up and looks at themselves in the mirror and turns around and looks at you and they are smiling from ear to ear, it is a real kick. That is why I place Lumineers. To help people smile."


Another dentist states: "There are not many things that you can do in dentistry that can get these powerful results that quickly, but with Lumineers you can."


Not only can Lumineers achieve flawless results in just under a few weeks, but they are also virtually painless and hassle free. Lumineers do not require the destructive removal of sensitive teeth structure or any painful anesthetic shots because they are ultra-thin and designed that way.


One patient wrote this Lumineers review, "I had always been so embarrassed about my smile. That all changed in 2 visits - it took less than a week to change my life. Now that's really something to smile about!"


Dr. Poneh Ghasri, specialist for Lumineers in Los Angeles, is certified to perform this procedure and she has seen plenty of patients leave her office with more self-confidence and a boost in self-esteem after they have been fitted with their Lumineers. This transformational technology has extracted the high price of pain and time from attaining a brand new smile, and hundreds of people have proven that Lumineers is truly a revolutionary way to gain the smile of your dreams. Just read their Lumineers reviews.

Back to Blog