Lumineers vs. Braces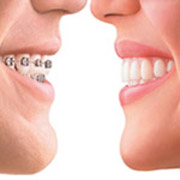 Deciding which cosmetic dentistry option to undergo is an extremely important decision. Each potential option has many considerations in regards to recovery time, length of the actual procedure, costs, and other miscellaneous circumstances. Both Lumineers and orthodontic braces may offer amazing results, but one may be more appropriate for your condition than the other. It is best to consult your dentist and orthodontist when deciding which treatment option is right for you.


Lumineers are mainly a cosmetic dentistry procedure, but orthodontic braces can help structurally reposition the jaw. Braces can influence and help realign several types of flaws within the mouth specifically aligning crooked teeth, as well as correcting overbites, underbites, cross bites, and malocclusions. Braces can also be used in conjunction with other orthodontic treatments to assist in shaping and widening the jaw and palate.

Lumineers are not designed to alter the structure of the jaw, bite, or palate. Lumineers are exclusively utilized as a cosmetic procedure to fix chipped, cracked, stained, misshapen, or otherwise imperfect teeth. Unlike braces, which could take months, and sometimes even years to see effective results, Lumineers only take a few weeks. 2 to3 visits can totally revitalize a smile from embarrassing and imperfect to brilliant and beautiful. Lumineers are an ultra-thin porcelain veneers that are laid over existing teeth, creating a brand new smile in a matter of minutes. Braces can be a long, tedious, and painful process.


Dr. Poneh Ghasri, Los Angeles Lumineers specialist, can help you understand and decide which procedure is right for your current dental needs. Discover the benefits of Lumineers today and watch as your imperfect teeth are transformed into a beautiful, bright smile.

Back to Blog