Lumineers vs. Veneers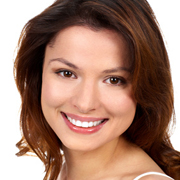 Gone are the days of bearing through weeks and week of recovery to restore a smile back to its original brilliance. Lumineers have captivated the attention of patients and dentists alike because its revolutionary and transformational procedure has virtually extracted any unnecessary pain and recovery time.

Lumineers have a ten-fold advantage over traditional veneers because they have been specifically designed and engineered to replace the processes.


Step by step, traditional veneers can take months to complete from fitting to recovery. A patient has to endure anesthetic shots when the teeth are filed and grinded down to fit the new dental veneers. The dentist must also undertake the arduous task of removing sensitive teeth structure to place the veneers. This process can take weeks and it can be very painful. Weeks of recovery are involved once the doctor has removed enough of the teeth structure. Then, once the veneers have been completely molded they can be placed onto the patients' mouth. This is an irreversible procedure and once the dentist has completed all the necessary actions the patient will have achieved the smile they have always wanted, but at a painful and high cost.


Lumineers were created as a better solution to those that are in need of smile restoration. Lumineers are made of ultra-thin porcelain, usually only 0.2 millimeters thick, and are incredibly durable and strong. The dentist usually only need 2-3 visits to have the Lumineers fitted and placed, which translates into the duration of a few weeks No anesthetic shots and no filing ever need to take place in order to complete the Lumineers procedure. Finally, Lumineers is 100% reversible, so that should a patient change their mind and wish to undergo other cosmetic dentistry treatments, the Lumineers can be removed without the loss of tooth structure. Lumineers has superior advantages over traditional veneers and can provide the patient with a beautiful, clinically proven long-lasting smile with no pain and very little wait in between steps.


Certified by Lumineers, Dr. Poneh Ghasri, specialist for Lumineers in Los Angeles, has performed this procedure successfully and patients are astounded by the miraculous results. Contact her office today to make an appointment and find out if Lumineers are right for you.

Back to Blog