What are Lumineers?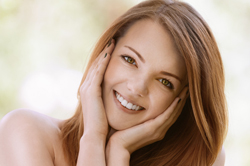 There are two main types of dental veneers, but the most pain and hassle-free is the Lumineers. What are Lumineers? Lumineers are a form of dental veneers that cover stained, chipped, or cracked teeth, but unlike traditional veneers, Lumineers are ultra-thin and can be placed onto teeth with no shots, no drilling of sensitive tooth structure, and no pain. They are virtually so thin that almost no preparatory filing of the teeth is necessary. Teeth are only moderately etched to prepare for placement, and unlike regular veneers, there is no permanent removal of sensitive tooth structure.
Easily transform your smile with Lumineers! With only 2 easy visits to Dr. Poneh Ghasri, you can bring out and enjoy a beautiful smile. During the first visit, a precision mold will be taken to form the Lumineers. On your second visit, Dr. Ghasri will bond your brand new, custom-designed Lumineers with a curing light and check that the fit and shade are correct.
With no anesthetic shots, very little etching, no painful tooth structure removal, and a very simple 2-step process you can achieve a healthy, natural looking, permanently white smile you have always wanted. Another benefit that Lumineers offer, unlike regular veneers, is that the treatment is 100% reversible, so you have nothing to lose and a gorgeous smile to gain.
Dr. Poneh Ghasri has extensive experience evaluating and placing Lumineers for patients. You can make an appointment today to speak with Dr. Ghasri about the possibility of using Lumineers to cover your stained, cracked, or chipped teeth, and give yourself a refreshing new appearance.

Back to Blog